Beyond the Mic: Harnessing Podcasting for Market Insights & Marketing
November 15 @ 4:00 pm

-

5:00 pm

|

Free
Join us for an enlightening exploration into the dynamic world where podcasting intersects with market research, marketing, and outreach opportunities.
In this engaging presentation, we'll delve into the innovative and actionable ways podcasting is not only entertaining listeners but also transforming the way we gather insights, drive marketing strategies, and expand your outreach efforts to amplify your business.
In this session, you will learn:
How to conduct effective market research to validate your service offerings
Amplifying marketing strategies and repurposing content through podcasting in your marketing efforts
Increasing outreach through your own and podcasting opportunities on others' shows
Presented by: Christine Lieu, CL Designs
Christine Lieu is the expert behind CL Designs and the Brand Party Podcast. She's a graphic designer who's traded in climbing the corporate ladder for climbing mountains around the world. Christine helps purpose-driven businesses create cohesive branding, web design, and social content creation to increase your impact and sales. Saying no to dull and clunky visuals and yes to consistency, creativity, and efficiency forms the core of her approach. As the host of the Brand Party Podcast, Christine and her guests deliver fun, honest, to-the-point advice that you can implement RIGHT AWAY in your entrepreneurial journey. It has made Top 10: Canada Design and Apple Podcasts' acclaimed New + Noteworthy list in both the Art and Design categories.
Do It In Durham Entrepreneurship Week
November 13 – 17, 2023
Join us for the 11th year of 'Do It In Durham Entrepreneurship Week'. Durham Region's celebration of entrepreneurship is held each November during Global Entrepreneurship Week.
Do It In Durham Entrepreneurship Week is a collaboration of Durham's business support, educational and networking organizations who have come together to encourage and support entrepreneurs, job creators and innovators who create economic growth in the Durham Region.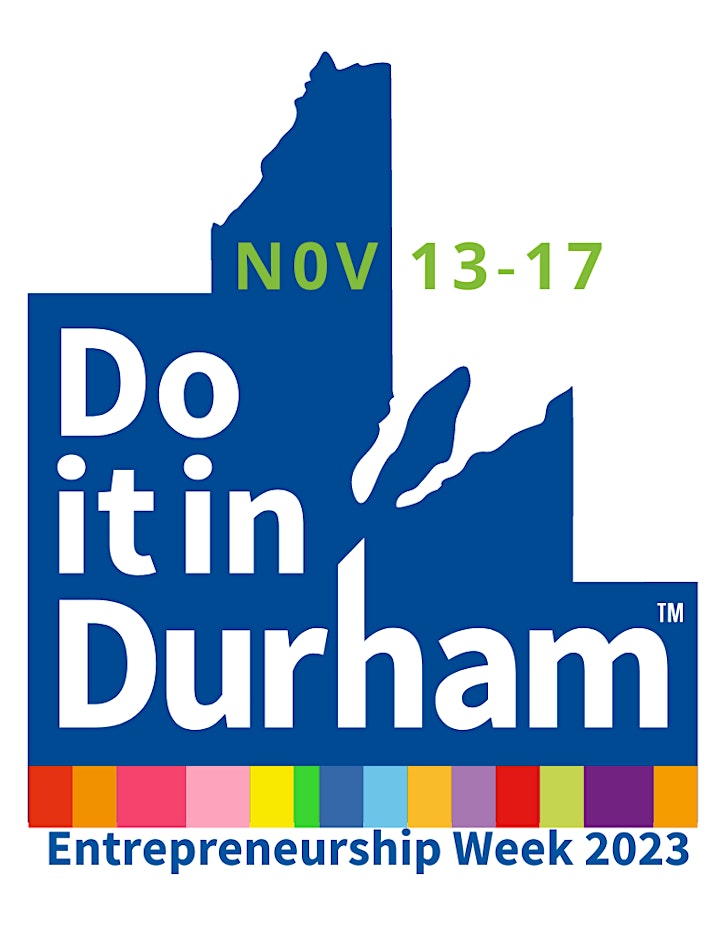 Share This Article